Good morning! I have a few minutes before I have to start getting ready for work this moring so I wanted to post some pics! This is a pic of our house with SNOW on the roof!!! OMG! It was sooo awsome to see snow this year! Our 1st year in our house and already we went through Hurricane Ike and now snow!
Here is our sidewalk at night :)
While driving to work I saw these guys on the side of the road. Hubby went back and took the pic for me!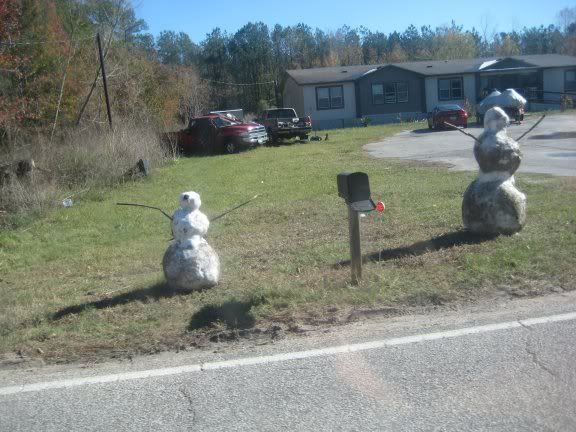 Monday when I got home from work, I came home to the most awsome package!!! It was the Primmart 2008 ornie swap!!! OMG!!! I wanted to just bawl like a big ol baby! I didn't sign up for the swap because that was when I had been going through my chemo treatments and was too weak to sew. This is the 1st year I have missed out on it. I believe I have been in the past 5 ornie swaps! So this is something very special to me!
I ran to the phone and called Mari! She is such a sweetie! She added so many extra goodies in there as well! My hubby said he loves her when he saw the dips! LOL I still need to hop on PM and thank everyone personally. I will be off Thur (tomorrow). So I can do some more updates.
Here is a pic of my goodies. I will be taking some pics, maybe a video of our Christmas tree tomorrow.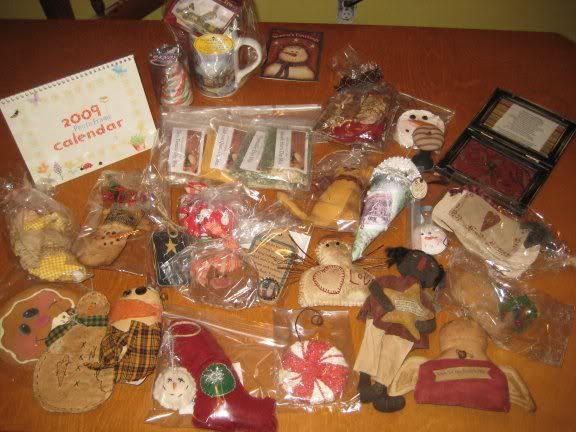 Oh and Miss Judy, (ya lil stinker!) sent me an awsome box yesterday! Everything was wrapped, so I called her and asked her if she wanted me to wait till Christmas to open everything. She said it was up to me! So I wonder if I am going to be a good girl or not? hmmmmm I want to dig in so bad! LOL hehehe
Well that is about it for now. I have to go get ready for work.
Big (((HUGZ))) to all that is reading and following my blog!